Fran: My Favorite Project at BYSCC Was A Design To Stop Runaway Baby Carriages
This week, four high school students selected by Science, Math, and Technology Education Center to participate in the North Carolina International Science Competition (NCISC) are traveling to Beijing, China to present their research, meet students from other countries, and experience Chinese culture. This blog highlights the journey of these future science rockstars of North Carolina! Today, we hear from Fran Nolan, chaperon for the trip. See more pictures and updates on Facebook, Twitter, and Instagram.
3/24/2013
Yesterday started as a very busy day with the USA delegation diverging in three different directions. The adults were off to tour the Forbidden City while I met up with the foreign delegations' tour to the Butterfly Exhibition. Later, I would join the students in the exhibition hall. We all finished the day at the initial awards ceremony ending at 9pm.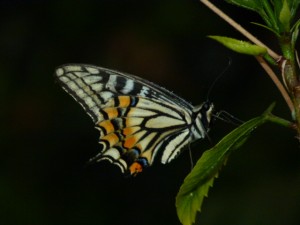 I took a lot of pictures at the Butterfly Exhibition, which was the largest butterfly exhibit that I have ever been to.  The day was cold so the warm, moist enclosures were very welcome.  The facility layout was a pleasing alternation of: live butterfly enclosures, scientific areas and interpretive centers.  The staff encouraged visitors to gently move the butterflies to fingers for as close look.  Great FUN Science!
At midday we arrived at the extraordinary school that housed the exhibition of student projects. Seventy foreign visitors were present representing ten or so countries. The projects were very interesting and demonstrated a wide variety of topics and sophistication.
My favorite was the Hong Kong team project that was a safe engineering design that automatically stopped runaway baby carriages. The real value of it (aside from the obvious safety) was that it was an "end to end" effort — not just conceptual.
The visuals clearly showed the concept: schematic of the motor brake, logic flow of the drivers, and other key components. Then they had the actual buggy with tactile sensors on the handles. Those would sense when Mom or Dad no longer gripped the buggy and would activate servo motors to clamp down a brake. The student team of three demonstrated it with a baby rabbit in the seat. IT WORKED!!
The Chinese projects were very impressive ranging from the social sciences to the "hard sciences" with a strong emphasis on robotics.  Our delegations' favorite social science project was a demographic analysis of how President Obama got elected, complete with a big picture of our President.
My favorite among the robots was a large, self-propelled machine that followed a blue-green card that its inventor walked around the hall.  If an impediment (person, chair, etc.) got between the robot and the card, the robot would quickly recalculate its shortest route and then proceed after the card.
American educators need to be aware of the applied robotics emphasis in other countries.  They still take over an occasional movie but they took over factories long ago!