Michelle: We are Finally in Beijing!
After meeting at RDU at 6:30 AM, we had a two-hour flight to Detroit, a two-hour layover, and a 13 hour flight to Beijing. I tried to get the most sleep that I possible could and adjust to the time change while I was on the plane, but I couldn't sleep continuously for that long, so I watched a few movies and played some games to pass time.
At around 3:30 PM (3:30 AM in Cary, NC), we landed in Beijing. We were greeted immediately upon our arrival by the three Chinese students who will be our helpers and translators throughout the week. They are all so kind and willing to help, and I'm sure they're going to help us so much during this trip.
After brief introductions, we took a one-hour bus ride into Northern Beijing and to the UCAS campus. I took advantage of the ride to get some much needed sleep and, before I knew it, we had arrived.
The campus itself is forested and the architecture is beautiful. I think we were all surprised that we were still in Beijing when we arrived to the campus, because this campus has a somewhat idyllic feel.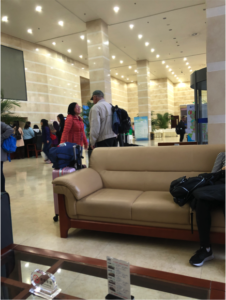 Once we arrived to the main building, we all checked in and received our competitor badges, a booklet with details about the week, and a super comfortable and handy bookbag!! It's safe to say that we were impressed.
Even though I've been to China three times before, it's definitely different this time around. Since I'm not with my parents or relatives, for the first time, I have been treated like a true foreigner, and it's pretty interesting to see this perspective of China.
As of now, it's about 9 PM, and I'm planning to sleep soon so that I can get adjusted to the time quickly. It's been great so far, and I can't wait for the rest of the journey!